Förstärkare i smidigt format med inbyggt MM-RIAA och hörlursförstärkare.
Heed Audio
Elixir
Lägg i varukorgen
Begagnad

(Skickas normalt inom 1-2 arbetsdagar)
Gratis frakt gäller alla ordrar över 500:-
Inbytes-exemplar i mycket fint skick. Komplett med tillbehör och originalemballage.
Elixir, från Budapest-baserade Heed Audio, är en kompakt integrerad förstärkare med 5 analoga ingångar, ett inbyggt RIAA-steg för MM-pickuper och en dedikerad hörlursförstärkare. Allt utformat för att ge Heeds berömda ljudkvalitet i världsklass i en en-box-lösning och till en lägre prispunkt än andra, mer exklusiva, Heed-produkter.
En hörlursförstärkare av klass A och förstärkt MM-RIAA-steg ger ökat funktion för användare som vill ha en enkel lösning för sin analoga uppsättning. Genom att använda kondensatorkopplingsprincipen som lånas från andra Heed Audio TransCap-förstärkare, till exempel den prisbelönta Obelisk SI, säkerställs en liknande ljudkvalitet och effekt.
Effekt på 50W per kanal vid 8 ohm, och 65W till 4 ohm, ger mycket ström för de högtalare som är anslutna till Elixir, vilket möjliggör ett brett urval av vilken högtalare användaren väljer.
Med fyra analoga RCA-ingångar, en MM-RIAA-ingång och två par 4 mm högtalarkontakter, tillsammans med en förförstärkareutgång och 6,3mm hörlurskontakt, hålls Elixir-specifikationerna enkla för nybörjaren, men ger expanderbarhet om du vill ha det.
There are some very stable points in our world, music being one of them. Music reproduction by Heed is another one. For more than a quarter century, we walk our own way, to show everyone that the world is far from flat.
The Elixir is the essence of how we think about music reproduction. This integrated amplifier puts down four important cornerstones that show provide a playground for the listener. A preamplifier with its dedicated output, a power amplifier with plenty of juice to drive anything reasonable, a phono preamplifier to re-discover those black discs, and a headphone amplifier with way too much talents for a secondary function only. But we have built them into one box because these are the basic functions everyone should experience in "My First Hi-Fi System". As it happens, it is well enough for the second and the third as well.
The Elixir has a neat place amongst our Transcap technology amplifiers. It is the purest music performer of all, without any technical compromise and presents the music effortlessly. Besides the power amplifier, the headphone stage also benefits from the basic idea of the Transcap technology. Class-A, darlington-driven, capacitor-coupled outputs feed your headphones like nothing else you have experienced before.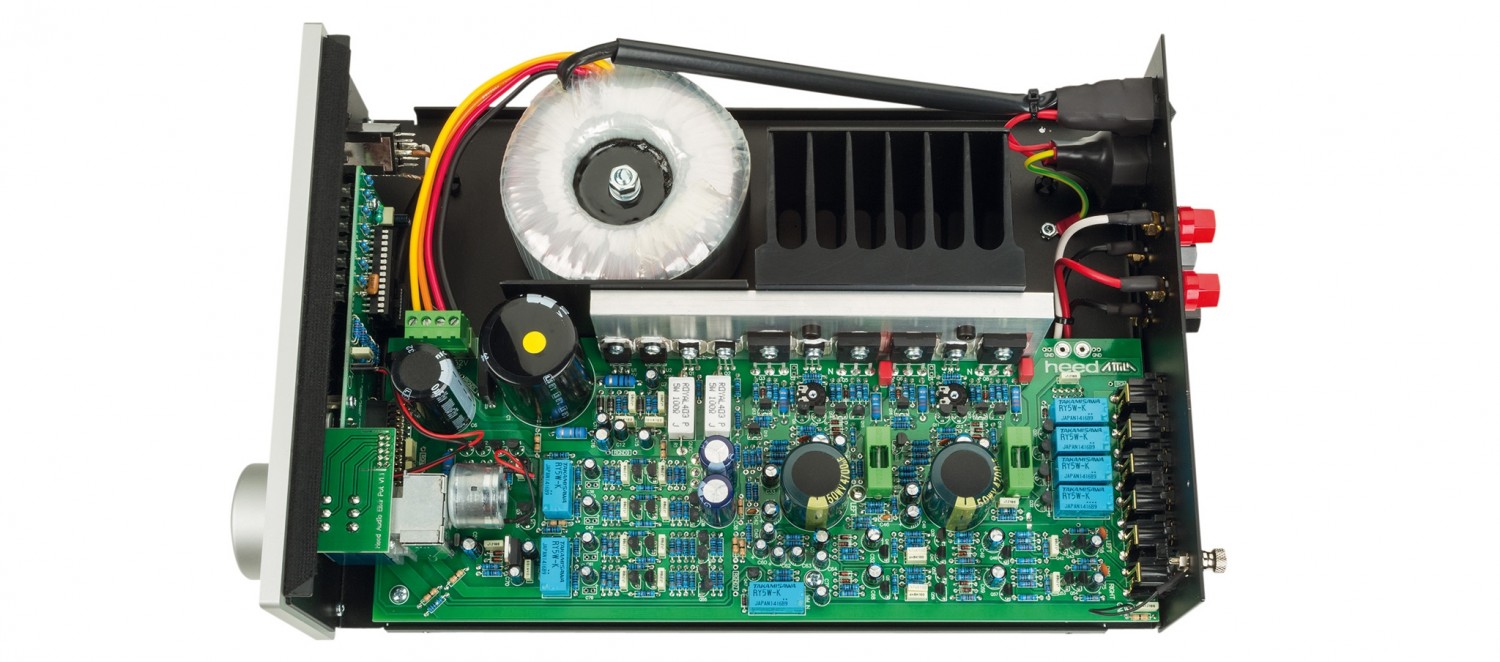 The MM phono stage is based on the Questar's circuit. As the standalone amp, this integrated incarnation is thick and warm and provides a great overall amplification for nearly all kind of MM cartridges. It's a very easy way to find your way back into the analogue domain, and be a lifetime captive of the black vinyl.
Specifikationer:
Class-A headphone amplifier
Transcap – output capacitor technology
Discrete bipolar transistor architecture
Inputs: 4x line analogue / 1x MM phono- Outputs: 1x stereo speaker / 1x preamplifier out / 1x 6.35mm headphones out
Freq. response (speakers): 10 Hz – 110 kHz
Freq. response (preamp): 3.5 Hz – 300 kHz
Freq. response (headphones): 3.5 Hz – 320 kHz
Input impedance (line): 10 kΩ
Input impedance (MM): 47 kΩ / 100 pFInput sensitivity: 135 mV- Power (8Ω): 50 W / channel (55 W peak / ch)
Power (4Ω): 65 W / channel (90 W peak / ch)
Max. consumption: 150 W
Idle consumption: 20 W
Weight: 6 kg
Dimensions (WxHxD): 22 x 8.5 x 36 cm